2020 Fall Club League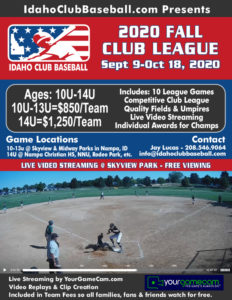 Use the form below to pencil your team in and hold your spot in our Fall Season. Payment will be due before your first game. Contact Jay Lucas at 208.546.9064 for more details.
View Full Size Varsity Fall League Flyer
Make a Payment Page for 2020 Fall League.
*See the who's coming/interest list on the home page.
Cost: 10u-13u = $850/Team
14u = $1,250/Team (higher 60/90 field rental costs)
HS Varsity = $1,750/Team (includes College WS Format Tournament)
Games: 10 Club League Games
Rough Dates: Around Labor Day or just after to Sunday, October 18, 2020
Locations: 10-13u @ Skyview Park (Nampa), Midway Park (Nampa) and possible others. 14U & Varsity @ Nampa Christian HS, NNU, Rodeo Park, Melba HS, Storey Park, etc.
*Ages: 14u, 13u, 12u, 11u, 10u & Varsity HS
*4/30/2021 Age Cutoff Date: (Player age on 4/30/21 is age for Fall 2020 and Spring/Summer 2021.
Field Sizes: HS & 14u (60/90), 13u (54/80), 12u (50/70), 11u (50/70), 10u (46/60).
Awards: Individual Awards for Division Champions
Make a Payment Page for 2020 Fall League.
[caldera_form id="CF5f24763475e4b"]